Returning to In Person Worship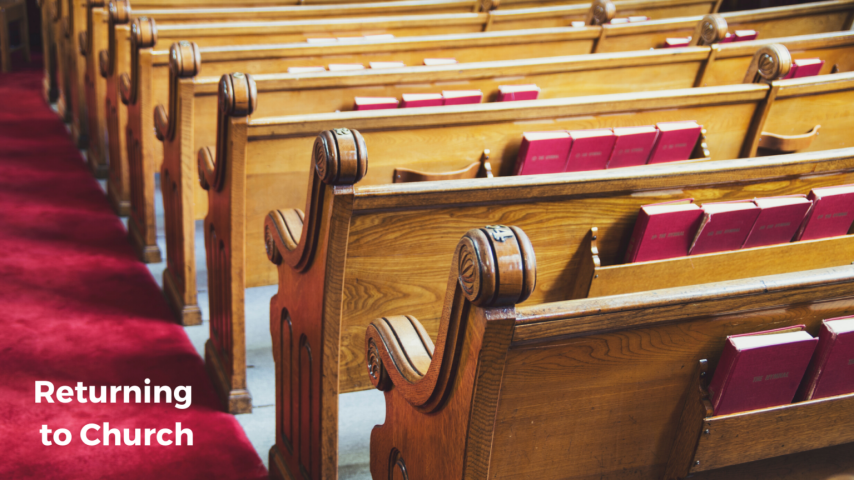 September 21, 2020
Dear Members and Friends of Good Shepherd,
Our sanctuary will be open for in-person worship starting on Sunday, October 11th. Using our best judgment, we believe Good Shepherd can once again hold Sunday worship by following the procedures below.
It was in mid-March that the Council took the unprecedented step of suspending face-to-face services in order to limit the potentially dire consequences of exposure to COVID-19. Surely, the past six months have been a time of trial for many who have contracted the virus as well as for those who have been isolated as a result of trying to avoid it.
While sheltering at home, a survey of the congregation indicated that some intended to return to church in the fall, but others preferred to wait until a vaccine is available. The survey also said that Facebook Live and YouTube online services are keeping us together. The online ministry is highly valued by members and friends and it has actually extended our reach.
Therefore, Sunday services in English and Spanish will continue to be recorded while congregants return to the pews. Quite a few other changes will be necessary on Sunday mornings, too.
The protocol for returning to church has been developed by a large committee that was chaired by Carol Voss, member of the Council. They worked through the summer to thoroughly consider every aspect of reopening, using the ELCA guidelines, CDC and State of NJ guidance, the survey results reflecting the wishes of the congregation, and other information. The health and wellbeing of our whole community was top-of-mind for the committee. Their recommendations were thoroughly discussed and adopted by the entire Church Council.
Please read read the procedures so you know what to expect when you arrive at church. Note that a reservation system will allow us to limit the number of attendees initially to 15. That is, 15 individuals or families will be able to make a reservation between Friday morning and Saturday night. You can do this online in one of three ways:
via the Good Shepherd website;
via a link in the Life @Good Shepherd digital bulletin; or
by phoning the church office at 201-444-6598 and leaving a message.
In this way, we will also be able to do contact tracing should someone become ill after they attended church.
How we have looked forward to this day! Let's continue to pray for God's guidance and blessing as we take these steps.
In Christ,
Maurice Willoughby
for the Church Council
Procedures for In Person Worship
Reserve a spot

Use the following online reservations link to make a reservation
Or make a phone reservation by calling the church at 201-444-6598
Arrive at worship

Plan to arrive between 9:30 and 10:00 AM
Enter through center doors to the church (the ramp is available for entry if needed)
Wear a mask and maintain social distancing
Keep your coat with you; windows will be open
You will be seated as you arrive; you must enter together if you want to be seated together; seating will be from front to back
Use hand sanitizer that is provided as you enter the narthex
Ushers will verify your reservation
Pick up a bulletin at the entry to the sanctuary
Wait at the entrance to the sanctuary until you're invited forward by an usher who will direct you to your seat
Flow of traffic will be marked on the floor of the sanctuary (enter down main aisle; exit by side aisle); all movement to be controlled by ushers' direction

During worship

Please, singing and massed recitation cannot be permitted
Currently there will be no communion

Following worship

Exit as directed by ushers, from back to front
Each side will exit via the nearest exit
Offering plates will be placed by exit doors
Please maintain social distancing while on church grounds

Restroom use

One single-person, handicap-accessible restroom outside of Fellowship Hall will be open

If you become ill

For the protection of your fellow worshipers, please notify the church if you are diagnosed with COVID-19 after attending in-person worship by calling the church office at 201-444-6598
Join us every Sunday
at 10:00 am for our
Facebook Live service.